Brazil: Army patrols at Venezuelan border
Comments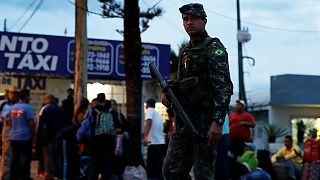 Army patrols will be deployed along Brazil's border with Venezuela to "guarantee law and order".
Around 700 to 800 people arrive in the country each day as Brazil considers placing a daily cap on the number entering.
It's after millions of Venezuelans have already fled their country and local authorities are completely overwhelmed.
Venezuela is going through massive inflation and food and medicine shortages
A million have gone to Colombia, 400,000 to Peru, and 120,000 to Brazil. And there's no sign of the flow slowing down anytime soon as Venezuela shows no immediate prospect of recovering.
Ten days ago, violence broke out in Pacaraima, the small Brazilian border town through which the majority of Venezuelans pass. The residents of the town attacked and burned the camps. forcing about 1,200 to return to their country.
Brazilian President, Michel Temer says, "It is no longer a matter of a country's internal politics, but one that goes beyond the borders of many countries and threatens the harmony of our entire continent."
The United Nations describes the mass exodus of Venezuelans as building towards a "crisis moment" comparable to events involving refugees in the Mediterranean.