China slams Trump over North Korea remarks
Comments
By Euronews with Reuters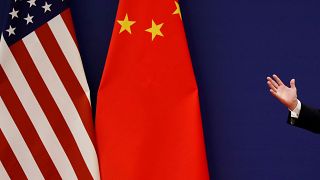 -
China hit back at Donald Trump, calling the US President "irresponsible" for blaming Beijing in holding up denuclearisation progress with North Korea, a day after he cancelled his top diplomat's trip to the hermit kingdom. 
"The US statement is contrary to basic facts and is irresponsible. We are seriously concerned about this," Chinese foreign ministry spokesperson Lu Kang said in a statement posted on the Chinese foreign ministry's website.
On Friday, Trump  cancelled a planned trip to North Korea by US Secretary of State Mike Pompeo, citing the denuclearisation of the Korean peninsula as being too slow.
The Chinese foreign ministry said it made "stern representations" to US officials that it would continue to play a positive role in working towards denuclearization. 
In a series of tweets on Friday, Trump said: "Because of our much tougher trading stance with China, I do not believe they are helping with the process of denuclearisation as they once were", despite UN sanctions against the nuclear-armed regime.
The cancellation comes just one day after Pompeo announced his visit next week to try to persuade North Korea to abandon its nuclear weapons.
Trump tweeted that he does not believe China is helping with the effort to reign in North Korea because of Washington's escalating trade war with Beijing.
Pompeo planned on taking former Ford Motor Company executive Stephen Biegun to be his special envoy to North Korea.
Trump finished his tweets by saying Pompeo looked forward to going to North Korea in the near future after trade relations thaw with China.
"In the meantime I would like to send my warmest regards and respect to Chairman Kim. I look forward to seeing him soon!" Trump tweeted.