Spain's government issues decree to exhume Franco's body
Comments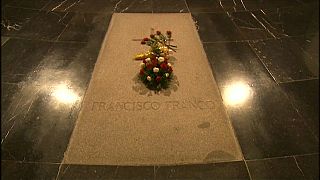 Spain's Socialist government has passed a decree to exhume the body of fascist dictator Francisco Franco.
His grandchildren are angry at the decision but the mausoleum at the Valley of the Fallen outside Madrid where he is buried has long been a pilgrimage site for members of the far right.
"When is this country going to stop having the remains of the dictator in a state tomb which serves as homage to him next to the victims? Carmen Calvo, Spanish Deputy Prime Minister said.
After he is exhumed the government intends to transform the site into a memorial for victims of the Civil War.
Even forty years after he died the Franco era remains a sensitive topic in Spain.
Tens of thousands of his enemies were killed and imprisoned in a campaign under his long rule which lasted from 1939 to 1979.
"When the tomb of Franco is taken away from the Valley of the Fallen, the site would lose the partisan character that it has, it wouldn't be any more a Francoist monument, or in honour of one side of the victims of the Civil War," Gutmaro Gómez Bravo, Professor of History at Complutense University in Madrid said.
"It would then really symbolise reconciliation in relation to a conflict that we had 80 years ago in Spain," he added.
Political crimes were pardoned after Franco died which upset many of the families of his victims.