Morocco: 188 activists pardoned
Comments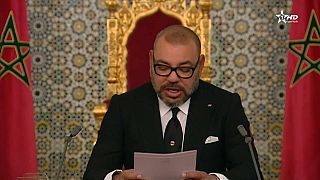 In Morocco, King Mohamed VI granted pardon to 188 activists of the disputed Rif movement.
It comes as the religious festival of Eid started on Monday.
Some of these people had been accused of leading the protests that first broke out in October 2016, after the death of a fish seller.
He was crushed by a dump truck, which continued against a background of social discontent in one of the poorest regions of the country.
In October 2016, protestors were tear gassed during the march.
It's not known who many were convicted but the protests led to more than 400 arrests.
That's according to the rights council.
A hundred and seventy-seven other detainees, also arrested in connection with these demonstrations, should be released. But not the leader of the movement, Hirak Nasser Zefzafi, nor his main figures. An appeal trial is scheduled to take place in October. The journalist who covered these events, is still jailed, and must serve three years in prison.