Greek bailout: The economy before and after
Comments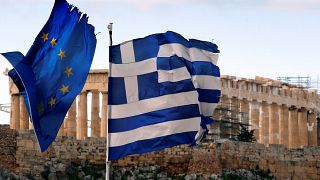 Copyright

REUTERS/Yannis Behrakis/File Photo

-
The Greek economy has been on a roller-coaster since the global financial crisis hit a decade ago.
As it successfully exits its eight-year-long bailout program, Euronews takes a look at how the Greek economy is faring now compared to 2010, when it first received money from creditors.
GDP
GDP or Gross Domestic Product is one of the main indicators of an economy's health and represents the total value of what the country produced in goods and services during a specific period of time.
In 2010, Greece's economy was worth $299.36 billion (€226.03). Last year, GDP totalled $200.28 billion (€177.73), according to the World Bank.
GDP Growth rate
The GDP growth rate measures how fast the economy is growing from one period to the next. If it is positive, that means the economy is growing and if it's negative, the economy has contracted.
A country is in recession when its GDP growth rate has contracted for two consecutive quarters.
During the first quarter of 2010, the Greek economy contracted by 1.6%, slipping into a multi-year recession from which it briefly emerged in 2014 and again in 2016.
The country finally rekindled with sustained expansion in 2017, with an annual growth rate of 1.4%. In the first quarter of 2018, it grew by 0.8% and it is expected to grow by 1.9% this year.
Government debt to GDP
The debt-to-GDP ratio compares what a country owes (its debt) with what it produces (its GDP). If the ratio is over 100%, that means the country's debt is larger than its GDP.
According to Eurostat, Greece's government debt-to-GDP totalled 146.2% in 2010 and has since soared to reach 178.6% in 2017.
It is the highest in the EU, far ahead of the second most indebted country, Italy, whose debt-to-GDP ratio was of 131.8% last year. Across the 19-country euro area, it stood at 86.7%.
Budget balance
Depending on whether its income exceeds its expenditures or not, a government can have a budget deficit or a surplus.
In the EU, the Stability and Growth Pact requires countries to keep their deficit under 3% of their GDP. If they fail to reach that metric, they then fall under EU surveillance and have to comply with EU decisions on how best to tackle the debt.
Greece had a budget deficit of 10.6% in 2010, but boasted a 0.8% surplus last year.
It is now one of only 12 EU member states to have a surplus alongside Germany, Denmark and Sweden.
Malta, Spain and Portugal are at the bottom of the EU ranking with deficits of 3.9%, 3.1% and 3.0% respectively.
Unemployment
Back in April 2010, Greece's unemployment rate stood at 12%.
In May 2018, 19.5% of the country's active population was jobless — its lowest rate since September 2011. The years of austerity lead to soaring unemployment in Greece with a record high of 27.9% registered in September 2013.
Young people were disproportionately impacted. In February 2013, a record 60.2% of them were jobless. Last May there were 39.7%.