Families evacuated after Genoa bridge collapse move into new flats
Comments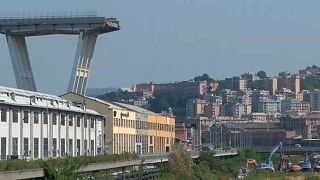 Families evacuated from their homes under the bridge that partially collapsed in Genoa moved into temporary accommodation on Monday.
The regional governor of Liguria handed apartment keys to some of the families who have still been unable to retrieve their belongings from their damaged houses.
Firefighters have heard creaking noises coming from the damaged bridge and more checks are  being carried out.
"| tell my parents that at least we do not have to cry for the dead ... the bricks can be put back," said one of the evacuees, Barbara Oneto.
Forty three people died when a section of the bridge collapsed but the governor of Liguria ruled out any more risk to life.
"No-one is living under that bridge anymore therefore people are safe at this stage," Giovanni Toti said.
The company responisible for the bridge has set up a fund worth millions of euros to help the victim's families.