Moment of Italian bridge collapse caught on camera
Comments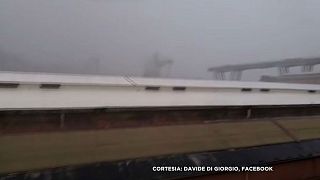 Davide Di Giorgio caught the moment a motorway bridge in Genoa, Italy collapsed, killing dozens, as he was shooting a video to send to his parents.
"It was like a film," he told Euronews. "I heard a big noise and I didn't know if it was the noise of the collapse or thunder and, through the smartphone, I realised what was happening and started to scream.
"I didn't think it was real, it couldn't happen. I'm shocked, we are all shocked."
Di Giorgio, who captured the footage from his office, can be heard in the video shouting "oh my god" as the bridge falls to the ground.
Italian Deputy Prime Minister Matteo Salvini said around 30 people have died in the tragedy.
One person has been rescued alive from the rubble and flown to hospital by helicopter, ANSA news agency reported.
The elevated road crumbled over a river, railroad tracks and industrial buildings. The highway acts as a corridor to the Italian Riviera and to France's southern coast. Train services around Genoa have been halted.
The Morandi Bridge was built over the northern Italian port city of Genoa in the 1960s and restructuring work on the structure was carried out in 2016.