Eurozone growth better than expected
Comments
By Reuters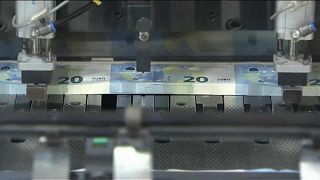 Euro zone growth was better than expected in the second quarter, flash estimates showed on Tuesday, in a sign that the negative effects of global trade tensions might be seen only later in the year.
However, while the economy expanded by 0.4 percent in the second quarter, above forecasts of 0.3 percent growth, industrial output in the in 19-country currency bloc fell sharply in June driven by a collapse in machinery and equipment investment, European statistics office Eurostat said.
Eurostat's flash growth estimate was also higher than its previous estimate of 0.3 percent growth. The agency also revised up the year-on-year growth to 2.2 percent from its previous 2.1 percent estimate.
The revised monthly figure, if confirmed by final data to be released on Sept. 7, would show that the bloc has maintained a 0.4 percent growth pace in the first two quarters of the year, confounding initial fears of a slowdown in the second quarter.
The better-than-expected estimate could increase the European Central Bank's confidence in winding down its asset purchase programme, but the growth outlook remains unclear, given the industrial output data.
The bloc was outperformed by the United States which doubled to 1.0 percent its quarterly growth from 0.5 percent in the first quarter of the year.
Eurostat's upward revision came after Germany, the bloc's largest economy, recorded a better-than-expected 0.5 percent expansion in the second quarter, driven by consumption and state spending that could signal the beginning of a shift from Germany's export-led economic model.
But it said the bloc's industrial output fell by 0.7 percent in June on the month, recording a larger drop than expected by economists polled by Reuters who had forecast a 0.4 percent fall.
Germany's monthly output was down by 0.6 percent in June after a 2.4 percent growth in May, Eurostat said.
"For the months ahead, production seems to be limited by concerns about the global economy on the one hand and capacity constraints on the other," Bert Colijn, a senior economist at ING bank said in a note to clients, predicting that the euro zone's current growth rate would remain unchanged this year.