Thousands evacuate Indonesia island after deadly quake
Comments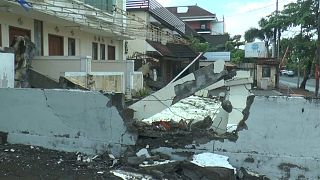 Thousands have evacuated Indonesia's Lombok island after a powerful 6.9 magnitude earthquake killed at least 98 people.
About 20,000 people have lost their homes and boats were sent to evacuate about 2,000 tourists from nearby Gili islands.
The island was rocked by another magnitude 5.2 earthquake on Monday evening.
Rescuers have been using heavy machinery to clear debris and search for survivors.
The National Disaster Mitigation Agency (BNPB) said it expected the death toll would rise once the rubble of more than 13,000 houses was cleared away.
The military said it would send a ship with medical aid, supplies and logistics support.
Lombok had been hit just over a week ago by another 6.4 magnitude quake that killed 17 people.
Sunday's quake released more than five times the energy of the earlier one, the United States Geological Survey website said.
The tremor was powerful enough to be felt on the neighboring island of Bali where two people died, according to the National Disaster Mitigation Agency.
Indonesia is an archipelago of thousands of islands, which sit on the Pacific Ring of Fire, a seismic activity hotspot.
The region is often hit by quakes, but many are harmless. However, it is alert to tremors that could trigger tsunamis.
The worst on record was in 2004 after a magnitude 9.3 undersea earthquake triggered a tsunami in western Indonesia, which killed 222,000 people in the area.