Actor Steven Seagal appointed Russian ministry's 'special representative'
Comments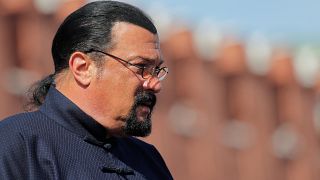 Hollywood actor Steven Seagal may be better known for his action-packed films, but his latest role will be as Russia's 'special representative' on US-Russian humanitarian ties.
The country's Ministry of Foreign Affairs announced the position on its official Facebook page.
According to the statement, his unpaid posting will be to promote intercontinental relations "in the humanitarian sphere", and will be similar to the United Nations' goodwill ambassador positions.
It was also specified that the appointment would include collaboration "in the sphere of culture, public and youth exchanges".
Russian passport
President Vladimir Putin presented a Russian passport to Seagal in 2016, saying he hoped it would serve as a symbol of how fractious ties between Moscow and Washington were beginning to improve.
Seagal was cited by Kremlin-backed TV station RT as welcoming the appointment.
"I've always had a very strong desire to do all I can to help improve Russian-American relations," RT cited Seagal as saying. "I have worked tirelessly in this direction for many years unofficially and I am now very grateful for the opportunity to do the same thing officially."
Relations between Russia and the US have soured over allegations that Moscow interfered in the 2016 US presidential race, which Russia repeatedly denies. The two countries are also at odds over Syria and Ukraine.