3 Russian journalists confirmed dead in the Central African Republic
Comments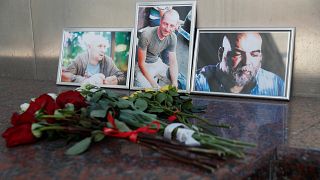 Three Russian journalists were ambushed and murdered in the Central African Republic on Monday.
A criminal investigation has been launched by authorities.
Russian Foreign Ministry Spokeswoman Maria Zakharova told TV channel Rossiya 24 the case was a "priority" for the Kremlin, and "special attention is being paid" to the case.
The journalists had not informed the Foreign Ministry and the Embassy of the trip or the reasons for it, according to Zakharova. The CAR Embassy in Moscow confirmed they entered the country as tourists.
The group had been working on an investigative project funded by Mikhail Khodorkovsky, a known exiled Putin opponent living in London, according to a statement on his website. 
They were allegedly investigating Russian private mercenaries, specifically the Wagner group, whose leader owns a company that is said to provide food catering services to the Kremlin.
Andrei Konyakhin, the chief editor of the investigative project, told the AP that the journalists were travelling with thousands of dollars in cash to fund their stay and were planning to meet a UN representative there.