Israel releases Italian street artist arrested over mural of Ahed Tamimi
Comments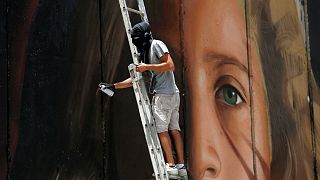 Israeli police on Sunday released a popular Italian street artist who was arrested for painting a giant mural of teenage Palestinian activist Ahed Tamimi on the Israeli separation barrier in Bethlehem in the occupied West Bank.
Agostino Chirwin, better known by the pseudonym Jorit Agoch, was arrested alongside another Italian national and a Palestinian.
"The two Italians suspected of vandalising the security fence in the Bethlehem area" have been released, Israeli police said in a statement.
"But their visas have been cancelled and they must leave Israel within 72 hours... if they fail to comply they will be expelled", the statement added.
Police said the Palestinian suspect was also freed because he was not strongly involved in their activities.
"Jorit has been released and now the procedures to deport Jorit [to] Italy have been started and they are assisted by [the] italian government,"Antonio Sabino, the mayor of Naples' Quarto commune — where Jorit lives — confirmed to Euronews.
He said he didn't have any information on the other Italian arrested.
Italy's Foreign Minister Enzo Moavero Milanesi said in a statement on Sunday night he had "learned with relief" that the two Italians would be able to return to Italy.
Jorit is known for his life-like murals of public figures and activists.
He had been working on a four-metre mural of Tamimi — a 17-year-old activist who was released on Sunday after spending eight months in prison for slapping and kicking an Israeli soldier — when he was arrested on Saturday, according to eyewitness accounts.
Local reporter Shafee Hafez told Euronews he saw the two Italians and the Palestinian activist being arrested.
A police statement said the trio were arrested "on suspicion of damaging and vandalising the security fence in the Bethlehem area."
The group, whose faces were masked, "illegally drew on the wall, and when border policemen took action to arrest them, they tried to escape in their car, which was stopped by the forces," the statement added.
Jorit wrote of his arrest on Facebook, saying: "Who can help us please do it".
More than 4,000 people reacted to the post, while many shared the hashtag #freejorit alongside pictures of his work on Twitter.
Euronews has reached out to Jorit for comment.