Giant moon disappears en route to Austria
Comments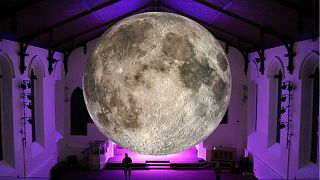 A British artist has launched a social media campaign to find his 7-metre replica of the moon, which disappeared in the post en route to Austria.
Luke Jerram's giant 'Museum of the Moon' structure was created using NASA satellite imagery, with each centimetre representing 5 kilometres of the moon's surface.
The floating artwork, created in partnership with the UK Space Agency, has appeared at events across Europe and had been booked for several more this summer.
However, the realistic replica disappeared in transit between Bristol and Austria, with delivery company TNT so far unable to find it, Jerram said.
"As they say I'm not over the moon about the situation," he told Euronews.
The artist has now called on social media users to help track down the sculpture by sharing images of the missing package and using the hashtag #findthemoon.
Many questioned how a sculpture so big could have disappeared, with some offering to collect the artwork if it is discovered elsewhere in Europe.
But the campaign has so far brought Jerram no closer to finding the package.
TNT said it was "aware of the shipment in question and we are conducting a full investigation into the missing item."
"As a matter of policy, we do not discuss specific details involving our customers," it added.