Nineteen people have died after a boat carrying 150 migrants sank near Cyprus
Comments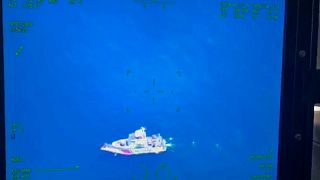 Nineteen people have died after a boat carrying 150 migrants sank off the coast of northern Cyprus.
Northern Cypriot and Turkish coast guards together with helicopters rescued 103 migrants with the help from commercial vessels in the area.
But Turkey's coast guard say rescuers were searching for 25 other people.
The sinking vessel was first spotted some 30 km (18 miles) off the north Cyprus coast by a Panama-flagged commercial ship which alerted the coast guard Wednesday morning.
One of the migrants was airlifted to hospital in Cyprus and is in a critical condition.
So far this year, from January to May, at least 26 migrants have died trying to cross to Europe from Turkey.
That's according to coast guard statistics.
Meanwhile, in 2017, more than 170,000 (172,301) migrants and refugees have died trying to cross the longer route between North Africa and Italy.