Iran diplomat arrested over 'plot to attack' opposition meeting in France
Comments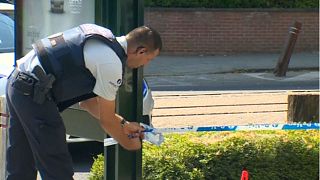 An Iranian diplomat was among a group of people arrested over an alleged plot to bomb a weekend rally by an exiled Iranian opposition group in France, where US President Donald Trump's lawyer Rudy Giuliani was in attendance.
A joint statement by the Belgian prosecutor and intelligence services said Belgian nationals Amir S. and Nasimeh N. "are suspected of having attempted to carry out a bomb attack" on Saturday in the Paris suburb of Villepinte, during a conference organised by the People's Mujahedin of Iran.
The two suspects, both of Iranian origin, were intercepted by Belgian police, with 500 grams of TATP, a home-made explosive produced from easily available chemicals, as well as a detonation device found in their Mercedes.
The 38-year-old man and 33-year-old woman were charged with "attempted terrorist murder and preparation of a terrorist offence," the statement said.
The diplomat at the Iranian embassy in the Austrian capital Vienna, described as a "contact person of the couple", was arrested in Germany, the Belgian statement said.
It gave no further details about the identity of the person.
Three people of Iranian origin were also arrested in France to assess their link to the Brussels suspects, a French judicial source told Reuters.
Two were released due to a lack of evidence against them while the third was held for questioning, the source said.
In a statement on Twitter, Iranian Foreign Minister Javad Zarif called the news, which came just two days before President Hassan Rouhani was due to visit Austria, a "sinister false flag ploy".
He said Tehran was "ready to work with all concerned" to get to the bottom of it.
Meanwhile, Belgian Prime Minister Charles Michel thanked the intelligence and security services for their work.
"Once again the good cooperation between European partner countries bears fruit," he wrote.
The People's Mujahedin of Iran is the main component of the exiled opposition National Council of Resistance of Iran.
The group, also known by its Persian name Mujahideen-e-Khalq, was once listed as a terrorist organisation by the United States and the European Union but no longer is.