Deadly attack on Mali military base leaves six dead
Comments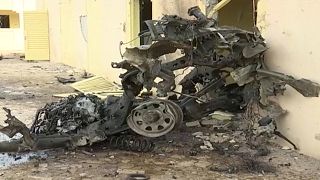 Islamist militants armed with rockets and explosives raided the headquarters of an African military taskforce in central Mali, leaving at least six people dead on Friday, a spokesman for the force said.
Assailants driving a vehicle rigged with bombs attacked the compound in the town of Sevare as some exchanged gunfire with Malian troops and fought to get in, officials said.
Pictures from the scene showed the charred remains of a vehicle, a crater and the battered walls of the buildings, which are used by the G5 Sahel, a regional force created last year to root out jihadists in West Africa's semi-arid Sahel region
A spokesman for the G5 force - which is made up of soldiers from Mali, Niger, Burkina Faso, Chad and Mauritania - said two soldiers and four assailants died in the attack.
"The attackers fired rockets at the headquarters and some of them infiltrated the compound. There was an exchange of fire," defence ministry spokesman Boubacar Diallo told Reuters.
A UN source in Sevare, speaking on condition of anonymity,  said that the compound was hit by a car bomb. Gunfire had died down by mid-afternoon, the source added.
Extremism watchdog SITE, which monitors militant activity globally, said Al Qaeda's branch in Mali had reportedly claimed responsibility for the attack and described it as a suicide bombing. 
The attack comes a month before Mali's presidential election.