Afghan cameraman learns of nephew's death in suicide attack
Comments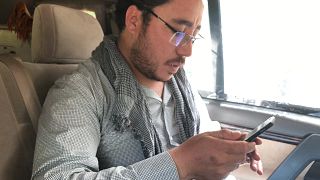 As journalists, we often operate at a safe distance from the heart of our stories, comfortable in the knowledge that when our work is done, we can return to our normal lives and prepare for the next working day. But unfortunately for Hayat Skindari, an Afghan cameraman who worked alongside Euronews reporter Masoud Imani Kalesar in Kabul, a freelance job to film the aftermath of a suicide attack became much more personal.
"I lost my nephew," says Skindari, who just received the devastating phone call. Nowroz Ali Rajabi, 32, was killed in a twin suicide blast on April 30. An attacker disguised as a journalist had merged with a group of reporters who raced to the scene of the first explosion in Kabul's Shash Darak neighbourhood and detonated his device.
"Last year he got married. This year his wife fell pregnant. He was the only son in the family: Him, his mother and his wife," says Skandari as he makes his way to a local hospital to identify his nephew's body.
Rajabi enjoyed a long career as a broadcast journalist with Afghan station 1TV before it was cut short in the attacks which were claimed by the so-called Islamic State.
Masoud filmed his full conversation with Hayat minutes after he learned of Rajabi's death, which is seen in the video player above.