Migrants: MSF responds to Macron's criticism
Comments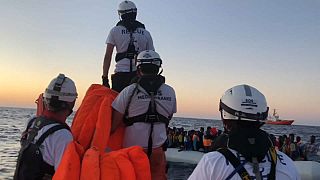 In the past few days several European leaders - namely, French President Emmanuel Macron and Maltese Prime Minister Joseph Muscat - have criticised rescue vessels and N GO's for disobeying authorities, and exacerbating the refugee crisis.
We talked to the MSF Humanitarian Affairs Advisor Hassiba Hadj- Sahraoui.
Euronews Toks Salako: What would you say to people who say that you are just helping to make matters worse, like Macron suggested. You are attracting other charities to this area which is extremely busy, more and more people want to come, when you should perhaps be tackling issues on land.
Hassiba: What the European Union is doing and what president Macron would want to do is just push the problem further away from European shores, but not necessarily to address the problem. And what is extremely concerning is that it is the name of fighting trafficking that all of this is being done, but then no one has any support or solution to give victims of trafficking and this is what we are trying to do.
Toks: What about the plight of people stranded at European ports
Hassiba: That is a situation of the making of European countries. When people have been stranded on boats and we disembark people, that is a very dangerous game to try to score political points on the back of very vulnerable people. Maybe the priority should to agree, lets disembark the people, let's rescue the people. Let's disembark them and let's find a system that is fair for all European countries and others if necessary to handle and process the asylum request of these people. The debate should not be about whether people should be rescued from the water or whether people should be allowed to disembark.