Italy to seize rescue ships in new migrant row
Comments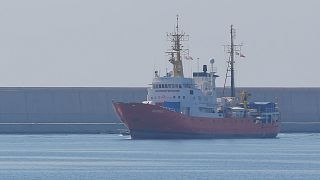 Italy is to seize two ships from migrant rescue charity Mission Lifeline for allegedly breaking the law, which the NGO vehemently denies.
Italy's interior minister and far-right League leader, Matteo Salvini, said on Friday that Mission Lifeline's rescue ships should be seized and "its crew stopped".
The Italian government accuses the German NGO of breaking the law by taking in over 220 migrants on Thursday despite the intervention of Libyan coastguards. It also says the charity's two ships, Lifeline and Seesuchs, are not properly registered.
"We are strictly within international rules and international law so we cannot understand what the Italian government is doing," Mission Lifeline co-founder, Axel Steier, told Euronews.
The Lifeline "is registered in the Netherlands," Steir said. "We have registration documents, all are fine. We don't know why this comes up."
Italy's transport and infrastructure minister, Danilo Toninelli, said a flag survey would be conducted after the Netherlands denied the ships were sailing under the Dutch flag.
Mission Lifeline responded by tweeting a picture of its ship registration paperwork.
According to Salvini, who said on Facebook that he had requested Malta open its ports to the Lifeline, the ship is now in Maltese waters.
For the NGO, "the next step is we try to talk to other European countries to get help because the people on board need immediate evacuation," Steir said.
"It could be that they were at sea for more than 50 or 80 hours; many people get seasick."
The row comes just a few days after Italy refused entry to the Aquarius migrant rescue ship, which had 630 migrants on board.
The ship, which Malta also turned away, eventually docked in Spain's Valencia but the quarrel exposed the bitter differences between EU member states when it comes to the best way to tackle the migrant crisis.
French President Emmanuel Macron provoked fury in Rome by accusing the Italian government of "cynicism and irresponsibility." Italy responded by calling France "hypocritical."
Several EU leaders — including Italy's Prime Minister Giuseppe Conte, Germany's Angela Merkel and France's Emmanuel Macron — are to meet on Sunday to discuss migration.