Chechen football fans give Salah 100kg birthday cake
Comments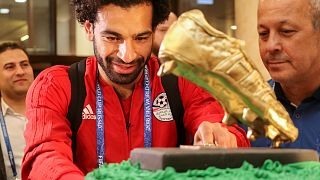 Egypt forward Mohamed Salah's 26th birthday didn't get off to a good start as his team lost to Uruguay in their first group match of the World Cup.
A group of fans from Chechnya, however, brought a smile to his face with a 100kg cake, decorated with a golden boot.
Salah was presented with the two-tier cake emblazoned with his country's national flag on the team's arrival at their training base in Chechnya's capital Grozny early on Saturday.
His teammates sang "Happy Birthday" in English and Arabic before he blew out the candles.
The star, who did not play in the game against Uruguay after injuring shoulder ligaments in the Champions League final on May 26, was expected to play in Egypt's remaining group games with Russia and Saudi Arabia.
Salah received criticism earlier in the week after appearing in a picture with Chechnyan leader Ramzan Kadyrov, whose regime has been criticised for alleged human rights abuses.
Amnesty International described the image as "pure sportswashing".