Children take part in Football for Friendship in Russia
Comments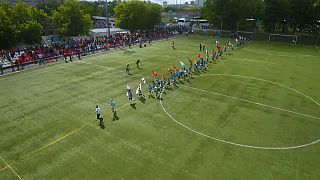 Young football players from 211 countries visited Moscow to take part in the 6th edition of Football for Friendship programme, organised by Gazprom.
12-year-old girls and boys were combined into 32 international teams.
The competition started ahead of the World Cup and every single participant won a ticket to it's opening match.
Swan Dram, from France, says, "It's a great honour to be able to play here in Russia at the World Cup because once in a lifetime you can do this, it's a unique chance that I have, I don't know the words, it's magnificent!".
Young footballers are the Ambassadors of football and they learn important values among their peers - respect for different cultures, peace, equality and of course friendship.
Kids here make friends with the whole world and show how football can break down barriers.
Chanwoo Kim, from South Korea says, "I am happy because I made many friends from all over the world. I am from South Korea he is from North Korea, we met each other here and we became best friends!"
Jeronimo Rodriquez Uruena from Colombia was the hero of this F4F championship. He scored more than 10 goals. Together with his best friend - goalkeeper from Dominica, Cameron Gregory Philip, promise to remember this moment and stay friends forever. Jeronimo says, "I feel very very very happy, this is wonderful!" Cameron says, "It's an amazing experience, we won a tournament in Russia!"
Over the last five years, the number of participants have increased to 3 million supporters.
The most prolific goal scorer in Russian football with 233 goals, Aleksandr Kerzhakov explains why F4F is so popular. "Football for friendship, each year stretches to more countries and more continents, to my mind, thanks to the boys and girls themselves, and to the message they take home so they're trying to change the world for the better".