Nine British teenagers injuried in double decker bus crash in Germany
Comments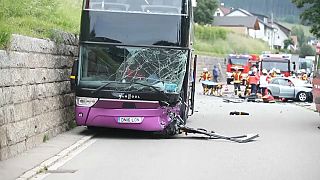 Nine British teenagers suffered with minor injuries after their double decker bus was involved in a crash in Germany.
German police say a 90 year old man lost control of his car and ran head on into the vehicle.
The incident happened in the country's Black Forest region.
Seventy-three students between the ages 13 and 15, were involved in the incident, near the southwestern town of Voehrenbach.
The driver of the car and one of the bus drivers suffered serious injuries and had to be rushed to hospital in a helicopter.