World Cup 2018: how to follow Egypt
Comments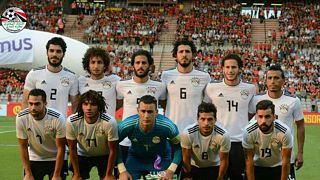 No team at this summer's football World Cup? Want to support another team as well as your own country?
Well, fear not, here's our guide to supporting Egypt.
Key facts
Full name: The Egyptian National Team
Nickname: The Pharaohs
Emblem: a football spreading its light of Egyptian flag colours.
Supporters nickname: None
Coach: Hector Cuper (Argentina)
HQ during the World Cup: Grozny, Chechnia, South of Russia
Chanting: Masr (four drum beats), Masr
What to shout during matches
Goal: Hadaf
Offside: Tasallol
Game: Mobarah
Foul: Foul
Free-kick: Foul
Who is the best-known superfan?
Muhammad Ibn Nufal, 24-year-old who is cycling all the way from Cairo to Moscow to be there for his national team.
Worst moment in World Cup history:
Losing to England in 1990 thanks to a Mark Wright header meant that Egypt's impressive and surprising draws against European champions the Netherlands and the Republic of Ireland were not enough to seal a place in the second round. It was Egypt's first world cup in 56 years.
Best World Cup moment:
When midfielder Magdy Abdel Ghany scored a late second-half penalty to equalize with the Netherlands in the opening game of Italia 1990.
Players to follow:
Mohamed Salah – the Liverpool forward who has taken the Premiership and the UEFA Champions League by storm this season. He won three different player of the year awards in England and almost single-handedly led Egypt to their first World Cup in 28 years by scoring five goals in the last six qualifiers.
Mahmoud Hassan 'Trezeguet' – the winger who plays for Turkey's Kasimpasa scored 19 goals for his club this season. He's been an integral part of coach Hector Cuper's squad since he took over in 2015.
Who should I follow on social media?
Players:
**Egyptian Football Association: **
Head of the EFA:@AbouRidaHany
Unofficial World Cup song