Israeli troops kill 3 Palestinians, injure 600 along Gaza border: medics
Comments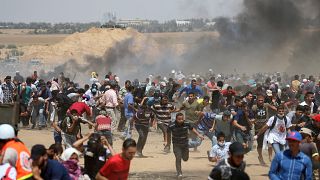 Israeli troops fatally shot three people and injured more than 600 others during Friday's weekly protest along the Gaza-Israel border, according to medics in Gaza. 
Some 10,000 Palestinians took part in the protest, according to the Israeli army, throwing rocks at troops, burning tyres, and hurling "a number of explosive devices and a grenade" across the fence. 
Hundreds of Israeli troops were deployed and fired tear gas and live bullets. 
Israel Defense Forces had issued warnings on leaflets throughout Gaza and on Twitter, warning civilians to stay away from the fence.
This is one of the weekly protests by the Palestinians that commemorate Naksa Day ("day of the setback"), when Palestinians were expelled from West Bank and Gaza Strip during the 1948 and 1967 wars with Israel.
Since March this year, at least 120 Palestinians have been killed in the protests, hospital officials told Reuters.
Led primarily by Hamas Islamists, the protests call for an end to Israel and the recognition of Jerusalem as its capital.
"There is no such state called Israel that could have a capital called Jerusalem," Hamas spokesman Fawzi Barhoum told Reuters.
"We are not asking for the moon," one protester, Amer Abu Khalaf, said, explaining the protest aimed to "break the siege and have the world recognise [Palestine's] right to return."
Emmanuel Nahshon, spokesman for Israel's Foreign Ministry, took to Twitter to condemn the Hamas "terrorists."