World Cup Russia 2018: how to follow Spain
Comments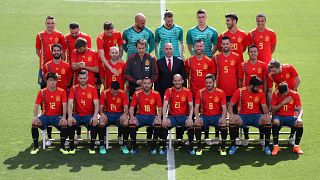 Is your team not going to the 2018 World Cup? Want to become a fan of another team? Or do you want to get to know your enemies? Euronews can help with our basic toolkit for the Spanish national team.
Full name: Selección Española de Fútbol
Nickname: La Roja (the Red one), Chile and Spain both claim this nickname
Emblem: Spanish coat of arms
Supporters nickname: none
HQ during the 2018 World Cup: Krasnodar, almost 836 miles south of Moscow
Chanting:
A por ellos (Go for them)
Yo soy español, español, español (I am Spanish…)
Olé (when a player does a pass)
Oé oé oé
As the Spanish anthem doesn't have any lyrics, supporters and players either remain silent or chant, "La la la, lo lo lo".
Key Supporters' language:
Goal: gol
Offside: fuera de juego
Game: partido
Foul: falta
Free Kick: falta, penalti
The Referee is blind: árbitro comprao (referee has been bought)
Cheat (trick): trampa
Can we play you every week?(for non-challenging opponents): son unos mantas (they're a blanket)
Yellow Card (asking for a player to be booked): Pintalo de amarillo (paint him yellow)
Superfan: Manolo el del bombo. Drum player, he's become a trademark.
Worst moment in World Cup history
Spain lost on penalties in the Quarter Final against hosts South Korea in 2002, the game was marred by various dubious decisions including two disallowed goals.
Another bad moment came back in 1982, when they were knocked out of the only World Cup to have been held in Spain to date. The home nation exited the competition following defeat to West Germany and a draw with England during the second round.
Best moment in World Cup history
Became World Champions for the first time in 2010, at the height of a six year period of dominance. During this spell they also won two European Championships (2008, 2012).
Players to follow: Iniesta, Piqué, Ramos. But the team's entertainer is Pepe Reina.
On social media:
Most common hashtags - #Rusia2017#VamosEspaña#AporelMundial
Spanish players (and supporters) are very active on Twitter:
During games:
Team's official account: @SeFutbol
Commentators and Pundits:
Guillem Balagué is well known across Europe for his work in La Liga in Spain. Keep up to date with him on Twitter - @GuillemBalague
Sara Carbonero is known in Spain for her work with Telecinco up until 2015, she is also known as the wife of Spanish legend Iker Casillas. Twitter - @SCarboneroWeb
Francisco "Paco" González worked for Telecinco on the 2010 World Cup. He currently works for Codena COPE. @PacoGonzlezCOPE