World Cup Russia 2018: How to follow Russia
Comments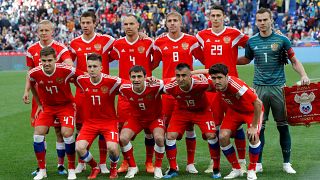 Is your team not going to the 2018 World Cup? Want to become a fan of another team? Or do you want to get to know your enemies? Euronews can help with our basic toolkit for the Russian national team.
Full name: Russian national football team (Сборная России по футболу)
Nickname: Сборная/Sbornaya (national team)
Emblem: Russian Federation coat of arms
Supporters nickname: none
HQ during the 2018 World Cup: Federal Sports Center Novogorsk, Khimki, Moscow Region.
Chanting:
olé, olé, olé, olé, Rossiya, vperiod (Russia go!)
Rousskiye, vperiod (Russians, go!)
Vperiod Rossiya, my s toboy (Go Russia, we are with you!)
The fans also sing the Katyusha — a Russian folk song that became a patriotic song during World War II
Few people know the words of the national anthem, which was modified in 1992, so not many supporters sing along. As for the team members, they were specifically instructed to learn the words after some appearances where most were only able to hum the melody.
Key Supporters' language:
Goal: гол [gol]
Offside: офсайд или «вне игры» [afside] or [vne igry]
Game: матч, игра [mutch, igra]
Foul: нарушение [narushenie]
Free Kick: 11-метровый (11-metre kick) or пенальти (penalty)
The referee is blind: судью на мыло (make soap out of the referee!)
Cheat: грязная игра [gryaznaya igra] (dirty gameplay)
If an injured player is blocking the game: уноси! [Unossi!] (carry him away!)
Superfan: Eduard Latypov, head of Russian fan club Russia Unites.
Worst moment in World Cup history
Following the breakup of the Soviet Union in 1991, Russian football has struggled to recover. They failed to qualify for the World Cup in 1998, 2006 and 2010 and have not made it out of the group stages at any other competition.
Best moment in World Cup history:
Russia's best World Cup moment came in 1966 where they achieved their best-ever finish of fourth place. Another highlight came when the Russian forward, Oleg Salenko, became the first player in World Cup history to score five goals in one game when Russia played Cameroon during the 1994 World Cup.
Players to follow:
Igor Akinfeev — Игорь Акинфеев (captain, goalkeeper), Fedor Smolov — Фёдор Смолов (vice-captain), Alexandre Golovin — Александр Головин (rising star at CSKA Moscow)
On social media:
Most common hashtags: #РоссияВперёд#СборнаяРоссии#ЧМ2018
Russian players (and supporters) are not very active on Twitter. They use Instagram more and share images there: