Raqqa: Coalition forces violated international humanitarian law
Comments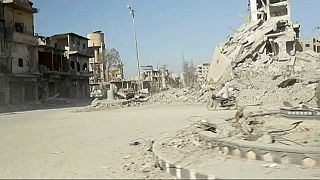 The people and city of Raqqa in Syria have been left in ruins.
That from a new report from Amnesty International.
It says 30,000 artillery rounds were fired by US, British and French coalition forces and the Americans were responsible for more than 90% of the air strikes.
It adds, the forces violated international humanitarian law and are potential war crimes.
Benjamin Walsby, Amnesty International Middle East Researcher says:
"We don't see any security or military reason why they can't tell us the locations, the targets, and explosive waste dropped and if it's true, that these strikes are all in complete compliance with international humanitarian law, then they've got nothing to hide, so why are they hiding the information. We want transparency. We also want accountability in the form of serious investigations".
Coalition forces say they minimized civilian casualties when targeting the so-called Islamic State who were using people as human shields.
Benjamin Walsby, Amnesty International Middle East Researcher adds:
"There are lessons to be learnt from the death of one year old Tulip Badran or the death of 80 year old Abu Saif. These and all the rest of the civilians that we covered in this report and all the rest of the people they killed in Raqqa as well - lessons must be learnt".
Amnesty International have written to defence officials in the US, UK and France seeking information about their attacks and any investigations carried out so far.