U.S. envoy tells Breitbart: I want to 'empower' Europe's conservatives
Comments
By Nick Bailey and Carlo Angerer with NBC News World News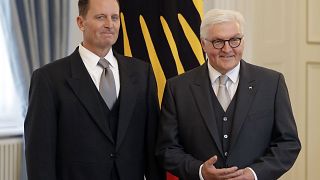 -
The U.S. ambassador to Germany has said he aims to "empower" European conservatives who are "experiencing an awakening from the silent majority."
"I absolutely want to empower other conservatives throughout Europe, other leaders," Richard Grenell told conservative news website Breitbart in an interview posted Sunday. "I think there is a groundswell of conservative policies that are taking hold because of the failed policies of the left, there's no question about that and it's an exciting time for me."
He added: "That's a very powerful moment when you can grasp the ability to see past the group think of a very small elitist crowd telling you you have no chance to win or you'll never win, or they mock you early on."
Grenell's remarks come amid a distancing between the U.S. and its traditional European allies, and after a series of elections emboldened conservative parties in Germany, Italy, Hungary and France. Last week, the U.S. applied tariffs on steel and aluminum imports on the European Union.
Grenell took up the ambassador post in Mayafter being nominated by President Donald Trump in September.
The interview drew criticism from Sen. Chris Murphy. D.-Conn., who said it breached diplomatic norms on political impartiality.
"I stand by my comments that we are experiencing an awakening from the silent majority — those who reject the elites and their bubble."
"When I raised concerns to Grenell about politicizing this post, he personally assured me that once he became ambassador he would stay out of politics," he said on Twitter. "This interview is awful — ambassadors aren't supposed to 'empower' any political party overseas."
Reinhard Bütikofer, a German member of the European Parliament, said Grenell would not be "very effective in his official function if he misunderstand his mission like that."
"Already his second major misstep," Bütikofer added in apparent reference to the ambassador saying that German companies "doing business in Iran should wind down operations immediately" after Trump announced the U.S. was pulling out of the international nuclear deal with Iran.
The president's son Donald Trump Jr., meanwhile, countered the criticism Sunday evening.
Grenell, a former U.S. spokesman at the United Nations under President George W. Bush, pushed back against his critics.
"The idea that I'd endorse candidates / parties is ridiculous," he said in a tweet. "I stand by my comments that we are experiencing an awakening from the silent majority — those who reject the elites and their bubble. Led by Trump."
In the same interview, Grenell also expressed admiration for Austrian Chancellor Sebastian Kurz, who won last year's election with a hard line on immigration and has formed a coalition with the far right Freedom Party.
"I think Sebastian Kurz is a rockstar. I'm a big fan," he said.
A spokesperson for the German Foreign Ministry told journalists that officials had asked the U.S. for "clarification" and if Grenell's comments had been "given the way they were published."
Grenell received a master's degree in public administration from Harvard University, was the longest serving U.S. spokesman at the United Nations, and briefly worked for presidential candidate Mitt Romney, according to the biography on his website.
He is also a founding partner of Capitol Media Partners, an international strategic communications firm with offices in Washington, D.C., New York and California.