Two more people killed in Nicaraguan protests
Comments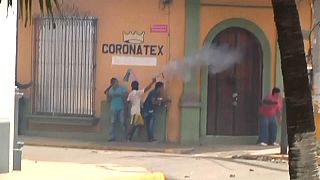 Violent clashes between protesters and police in Nicaragua sees two more people dead, in the streets of Masaya.
That's according to the Red Cross.
More than 110 people have been killed in the country since mid-April amid clashes between forces loyal to President Daniel Ortega and opposition groups demanding his removal.
Spanish protester, no name given: "People are tired. They want nothing from Rosario (Ortega's wife who is Nicaragua's Vice President) or Daniel Ortega. We are not going to surrender"
Police ended the siege at a church where protesters had sought refuge after being attacked by riot police and pro-government militias.
Human rights groups say the police have acted with brutality.