Polish MEP has penalties for 'sexist' outburst scrapped
Comments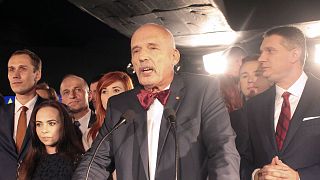 A punishment given to a Polish MEP after he said women should earn less because they were "weaker, smaller and less intelligent" has been scrapped.
Janusz Korwin-Mikke made the comments last year at the European Parliament during a debate on the gender pay gap.
But in a decision published on Thursday (May 31) the General Court of the European Union scrapped punishments given to Korwin-Mikke, which included a ban on taking part in parliamentary debates and picking up a daily allowance.
"In today's judgments, the General Court notes that freedom of expression plays a central role in democratic societies and that it is, on that basis, a fundamental right," the decision notice reads.
"However, the right to freedom of expression is not an absolute prerogative and its exercise may, under certain circumstances, be subject to restrictions."
Korwin-Mikke had been called sexist after interrupting female Spanish MEP Iratxe García-Perez during a debate in March 2017.
He said: "Do you know how many women are in the first hundred of chess players? I tell you, no-one.
"And of course women must earn less than men, because they are weaker, they are smaller, they are less intelligent."
Antonio Tajani, president of the European Parliament, later announced Korwin-Mikke would be punished for the remarks.
Tajani said at the time: "I will not tolerate such behaviour, in particular when it comes from someone who is expected to discharge his duties as a representative of the peoples of Europe with due dignity. By offending all women, the MEP displayed contempt for our most fundamental values."
He was stripped of taking his daily allowance for attending parliament for 30 days, which was worth €9,180.
Korwin-Mikke was also suspended from parliamentary activities for 10 days — with the exception of voting — and prohibited from representing parliament for a year.
But the court, cancelling the punishments, said: "Despite the particularly shocking nature of Mr Korwin-Mikke's comments, in the absence of disorder or disruption of Parliament whilst in session, the relevant provisions of the rules of procedure of the parliament did not justify an MEP being penalised for comments made in the exercise of his parliamentary functions."
The court rejected Korwin-Mikke's claims for compensation over the incident.