Formula One drivers smash caravans in short-lived race
Comments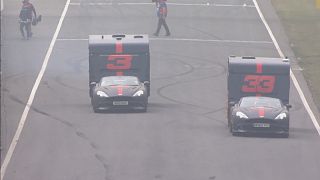 -
What happens when you challenge two Formula One drivers to compete in a race towing caravans? Carnage.
The race, organised by Red Bull, saw teammates Max Verstappen and Daniel Ricciardo swap their sleek racing car for Aston Martins with caravans attached.
After a sedate first lap, the two drivers let loose. A few moments later, Ricciardo was swerving across the track, dragged by his caravan which smashed into pieces after crashing into grass.
The stunt took place on Sunday at the Zandvoort circuit, in the Netherlands, and comes ahead of the Monaco Grand Prix. Widely considered the most prestigious racing event in the world, it will be held on May 27.