Women challenge the status quo at the Cannes Film Festival
Comments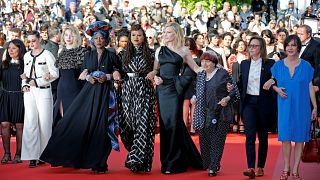 Women often fill the frame at Cannes. On the red carpet, the camera lingers on them far longer than it does on men.
But this year, some women are challenging that image.
"There's always been objectification of women. There seems to be an idea that a woman can't be beautiful and clever at the same time. Women no longer happy to be like Marilyn Monroe and be in front of the camera and be childlike. We can't just put pretty women in a box for others to manipulate, that time has long since gone."
Harvey Weinstein was a regular on la Croisette. This year, he's been replaced by the MeToo movement he provoked, and the festival has a new hotline to report sexual harassment.
Responding to criticism that the film industry is male-dominated, Cannes has appointed a jury with more women in it than men this year - only the third time that's ever happened.
Belle Donati, the Euronews Correspondent, says: "But when you start flicking through the films on show here this year, you start realising there are a lot of men's names here. In fact, only three out of the 21 films competing for the Palme d'Or are directed by women."
The festival's director says that's because there are simply fewer female directors to choose from.
"Cannes has always been branded as somewhere women haven't had enough space, and we've even had years when there have been no women in competition, says Thierry Frémaux, Cannes Film Festival Director. "I've always said, that's just an artistic reality that has nothing to do with our film selection."
One of the seven female directors in the Un Certain Regard competition agrees that affirmative action in selection is not the answer.
Wanuri Kahiu, director 'Rafiki': "Before I'm a woman, I'm a filmmaker first. I'd like to think that my film gets in to the festival on the merit of the film, not because of my gender."
Organisations campaigning for gender parity in the industry say the problem lies further up the chain.
Anna Serner, CEO of the Swedish Film Institute: "Who is selecting what the jury gets to see? It's a lot of coming and going of the same names, and i think that some need to be kicked out actually to let new ones in."
50/50 by 2020 - it's an ambitious target, but one which - this year - has galvanised the entire industry.