Southern Spain corroded by cocktail of drug gangs and jobless youth
Comments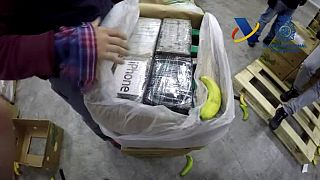 A Spanish police union has warned that increasing numbers of young people in the south of the country are being lured by the appeal of working for drug gangs – giving them a sense of power and status in a region otherwise blighted by high unemployment.
According to the union, the presence of international networks is growing and "legions of youth" are being enticed by the prospect of narco-salaries that "not even a multinational could pay its executives".
"It is easy to get involved in this type of criminal activity. It's completely integrated into society, it's not seen as something negative but as a way to earn a living," Juan Fernandez from the Unified Association of Civil Guards (AUGC) told Euronews.
The warning comes in the wake of two events over the past few days which have added to an impression that parts of the poor region surrounding Gibraltar are losing control to the narcotraffickers, who are acting with virtual impunity.
One was the death of a young boy on a beach at Algeciras, after two recreational boats collided. Reports say the child's father is a member of a drug gang known as the "Pantoja", while the helmsman of one of the boats also has a history of trafficking. Fearing reprisals and an escalation of violence, police have appealed for calm.
The other episode was the violent intimidation of a group of nine off-duty Guardia Civil officers last weekend. They were surrounded by dozens of people – some thought to be linked to drug gangs – as they left a restaurant. Further violence was reportedly only avoided when one policeman fired shots into the air. A number of people were detained.
A growing industry
Euronews spoke to a local group helping drug addicts, which says the situation is aggravated by a combination of factors: a lack of legal enforcement, a new generation of more violent traffickers and increasing gang rivalry, local support for the drug gangs – and the economic crisis and unemployment. The town of Linea de la Concepcion, the worst affected, has a jobless rate of 35 percent.
Officials say the illegal drugs industry has become increasingly internationalised. "The cocaine controlled by the Colombians, worth 35,000 euros a kilo in Spain, still has the port of Algeciras, along with Valencia, Vigo and Barcelona, as its main entry route. The African cocaine route comes mainly via Algeria and Tunisia before continuing its journey to Europe," Ricardo Toro from the Central Narcotics Brigade of Spain's National Police told El Pais.
Traffickers have become increasingly brazen and sophisticated in their tactics. On the beaches of southern Spain, some gangs have disguised themselves as police to trick rivals and seize their cargo. "When the real civil guards arrive, the gangs don't know whether they are another band or real officers," said Juan Fernandez.
In February one group stormed a hospital to free a gang member who was being guarded by police. Another tactic employed in recent years involves drugs being transported in cars, which are crashed into police vehicles if they intervene.
Inadequate response
The government's response is inadequate, the police union says. When extra resources are sent to an area the situation calms down temporarily, only to flare up again after the officers return home.
The union wants to see tougher sentences, which are more lenient in Spain for cannabis trafficking for example than in France or Britain.
Drug trafficking has always been a fact of life in the Strait of Gibraltar, a gateway to Europe separating Spain from Morocco by just 14 kilometres at its narrowest point.
However, the past decade has seen a rise in the amount of cannabis and cocaine-smuggling – and increasing violence. The police union says officers don't want to be posted to the region, fearing for their and their families' safety.
The Spanish interior ministry estimates that 40 percent of all drugs entering the country arrive via the surrounding Cadiz province. Up to 60 percent is thought to be destined for other European countries.