Time travellers welcome to Stephen Hawking's memorial service
Comments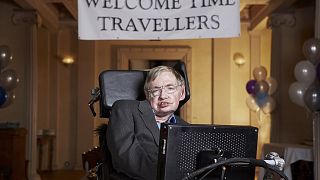 -
The late scientist Stephen Hawking once threw a party for time travellers - although no one turned up.
Now his family and foundation appear to have given time travellers another chance to honor the famous theoretical physicist by allowing them to attend the Thanksgiving service held for him next month in London.
Hawking's ashes are to be interred between Sir Isaac Newton and Sir Charles Darwin in Westminster Abbey, in London, during a ceremony on June 15 and a thousand members of the public have been invited to attend through a ballot system.
Users noticed with delight that the date of birth for entrants extend to December 31, 2038, thus allowing the possibility that time travellers could also attend.
Professor Hawking, who died on March 14, 2018 at the age of 76, believed time travel could be achieved.
"Rapid space-travel, or travel back in time, can't be ruled out, according to our present understanding," Hawking said during a 1999 lecture entitled ""Space and Time Warps", cautioning however against the "great logical problems" such a feat might engender.
A decade later, he famously threw a party for time travellers and sent the invitation, which included the date and coordinates of the party, only after it was over. But no-one turned up.
"What a shame," Hawking said at the time. "I was hoping a future Ms. Universe was going to step through the door."
But the Stephen Hawking Foundation, warned that just like modern-day entrants, "if you are travelling to the service from a different time, you will need to bring proof of where and when you were born."
Hawking was diagnosed with a rare motor neurone disease at the age of 21 and told he only had a couple years left to live. He went on to live for decades although the disease progressively left him paralysed, wheelchair-bound and reliant on a speech-generating device.
He nonetheless continued to deliver ground-breaking work on cosmology, black holes and quantum physics.
The ballot for tickets to the memorial service runs until May 15.