SpaceX makes successful launch of new Block 5 rocket
Comments
By Reuters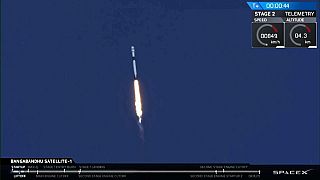 An updated version of the SpaceX Falcon 9 rocket, tailored for eventual crewed missions for NASA, made its debut launch on Friday from Florida's Cape Canaveral carrying a communications satellite for Bangladesh into orbit.
The newly minted Block-5 edition of the Falcon 9 - equipped with about 100 upgrades for greater power, safety and reusability than its Block-4 predecessor - lifted off at 4:14 p.m. EDT (2014 GMT) from the Kennedy Space Center.
Minutes later, the rocket's main-stage booster flew itself back to Earth to achieve a safe return landing on an unmanned platform vessel floating in the Pacific Ocean.
The recoverable Block-5 booster is designed to be reused at least 10 times with minimal refurbishment between flights, allowing more frequent launches at lower cost - a key to the SpaceX business model.
Enhanced rocket reusability also is a core tenet of SpaceX owner and billionaire entrepreneur Elon Musk's broader objectives of making space travel commonplace and ultimately sending humans to Mars.
SpaceX has safely return-landed 24 of its boosters and reflown 11 of them.
Friday's flight marked the ninth SpaceX launch so far this year, compared to five orbital-class missions the company had logged at the same point in 2017, according to Musk.