Police arrest 14-year-old after California school shooting
Comments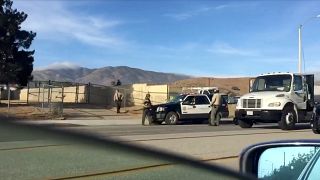 A 14-year-old student at a California high school shot and wounded a fellow student on Friday morning before being detained by police, the Los Angeles County Sheriff's Department said.
The victim, a 14-year-old boy, was hit in the arm and was in stable condition at a hospital. The suspect, also a boy, was detained off campus by officers, who recovered a rifle, according to the department.
Deputies responded to Highland High School in Palmdale, about 60 miles (97 km) north of Los Angeles, at around 7 a.m. (1400 GMT) after receiving multiple reports of an armed person on campus.
The initial reports of a possible school shooting drew immediate attention from major news outlets and cable TV networks. It underscored the national debate over gun control and gun rights that was reignited by the mass shooting of 17 students and staff members at Marjory Stoneman Douglas High School in Parkland, Florida.