US Pastor faces up to 35 years in prison in Turkey
Comments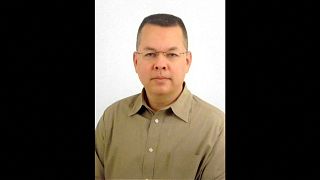 American officals are in Turkey for the trial of a US pastor accused of links to last year's failed coup.
Andrew Brunson faces up to 35 years in prison on charges of terrorism and spying.
The trial has put pressure on Brunson's wife, Norine, but also on diplomatic relations between the US and Turkey.
Brunson's lawyer, Ismail Cem Halavurt, has voiced some hope for the pastor's release and insists that his client, who has been in Turkey for more than 20 years, is innocent.
During his first hearing last month Brunson broke down in tears as he rejected all the accusations being made.
Brunson has three chimldren and is a pastor at the İzmir Resurrection Church.
US President Donald Trump took to Twitter in support of Brunson saying that he was being imprisoned for "no reason" and urged President Erdoğan to release him.