War criminal stopped from holding controversial rally in Serbia
Comments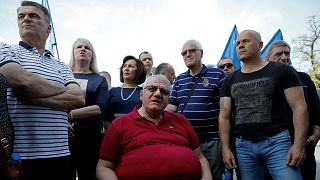 A far-right leader and convicted war criminal was stopped from holding a controversial rally in Serbia on Sunday.
Police roadblocks prevented Vojislav Seselj, leader of the ultra-nationalist Serbian Radical Party, from getting to Hrtkovci.
Seselj had wanted hold a gathering in the village to mark the anniversary of a 1992 speech he made there that United Nations war crimes judges identified as a crime against humanity for instigating deportation and persecution.
Authorities had banned the rally, believing it would have unnerved the remaining Croat minority in the Hrtkovci.
Most of the Croat population left the village during the conflicts of the 1990s.
Before the break up of the former Yugoslavia, Croats accounted for 40% percent of the population, compared with 10% now.
Seselj and his party had been saying for several weeks they would organise a gathering in the village on the 26-year anniversary of the speech, which happened amid the wars following the break-up of Yugoslavia.
His inflammatory words led to the departure of a large number of ethnic Croats and he was recently convicted by a UN war crimes tribunal.
On Sunday, Seselj and dozens of his supporters were stopped at a roadblock in the neighbouring village of Jarak.
He spoke with the media before turning back after about half-an-hour.
"Since the regime has banned the gathering, we have the right to provoke the regime," Seselj told reporters.
He went on to deny any intention of wanting to provoke local Croats, saying they were all citizens of Serbia.
But as Seselj was leaving supporters of the Liberal Democratic Party (LDP) arrived and held a banner reading "Seselj is a war criminal," sparking skirmishes.
Seselj founded the Serbian Radical Party and was deputy prime minister under Slobodan Milosevic during the wars that accompanied the breakup of Yugoslavia in the early 1990s in which more than 100,000 people were killed.