Real Madrid looking to end Barcelona's winning streak in El Clasico
Comments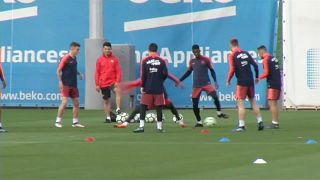 Its el Clasico time in Spain and though Barcelona have won La Liga and are 11 points ahead of their Real Madrid rivals, there is plenty at stake.
Barcelona have no injury concerns going into this game. The midfielder Andres Iniesta is expected play his last ever Clásico.
Ernesto Valverde, the Barcelona coach, said: "The Clasico is the Clasico, is a significant match in the season and fortunately for us we are the champions but there's still a lot of incentives on the pitch and we all know what it means for our fans and Real's fans."
The midfielder Dani Carvajal is sidelined with a hamstring injury and Isco is still suffering from a strained shoulder
Head coach Zinedine Zidane says there is plenty of respect for his rivals but there will be no guard of honour: "We will not do a guard of honour because they didn't do one for us. But I respect them and the most important thing is to respect what Barcelona has done which is win the league, which for me is the most difficult and complicated, and best championship, they won, I congratulate Barcelona and this is respect".
Respect aside Madrid will be focused on ending Barca's record-breaking undefeated streak.