March in solidarity with migrants
Comments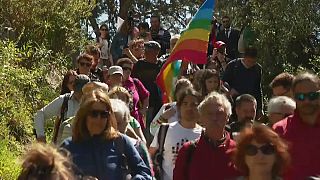 Dozens of activists have set off from the Italian border town of Ventimiglia on a ''March of Solidarity'' for migrants.
The marchers are heading to London and will pass through more than 60 French towns and cities, including Nice, Marseille, Lyon, Dijon, Paris and Lille.
The marchers aim to cover between 20 and 25 kilometres a day and reach Calais in early July.
"The foreigners have been walking for a long time. But we, the citizens, are going to start walking for them, with them," said Jacques Gaillot, the former Bishop of Evreux.
The Greens European deputyJosé Bové said: "The objective is to ask ourselves: 'How can we help people who are suffering today, whether they are men, women or children?' You can't be in a fortress situation, so how do we build bridges, rather than walls?"
Ventimiglia was chosen as the symbolic start of the march because it is where the journey ends for thousands of would-be migrants - sent back by police patrolling the French border.
The march was organized by the French migrant charity l'Auberge des Migrants.
They hope to reach London on July 8th.