French railway workers strike again
Comments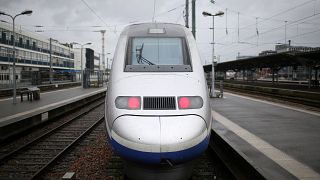 French railway workers will continue their strike this weekend as part of a rolling series of stoppages.
The action will see half of scheduled high-speed services and three out of every five regional trains cancelled.
Staff have walked out two days out of five since the campaign. in the beginning of April.
One passenger said: "Several other movements gathered around railway workers. I think the fact that they are very cautious on having a schedule enables people to plan ahead. I also have the impression people are taking their cars or other alternative methods but they are not necessarily bothered in their travel plans. Anyway, they plan their journey with the available trains."
The workers are protesting plans by President Emmanuel Macron to reform the company, which has debts of more than €46 billion.
Currently, SNCF staff are guaranteed jobs for life and can retire as early as 52.