Watch: men caught tearing down abortion posters in Ireland
Comments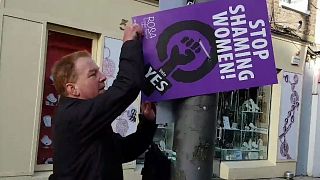 Men have been filmed tearing down posters that call for the repeal of Ireland's strict abortion laws.
The country will hold a referendum on whether to ease legislation next month.
Footage shows one man in Limerick — a city in west Ireland — pulling down a poster with the words 'Stop Shaming Women' on it.
There were two other incidents caught on camera in the capital, Dublin.
In one a man is seen striding across a city centre road and wrestling the poster to the ground.
In the other a male is seen at night riding a bike and carrying posters. The author of the video said they were publicity promoting the keeping of Ireland's current abortion laws.
A complete ban on abortion in Ireland was only lifted five years ago for when the mother's life is in danger.
Voters will be asked on May 25 whether they want to repeal the Eighth Amendment of Ireland's constitution, which enshrines the equal right to life of the mother and her unborn child, and instead let parliament set the laws.