French President Emmanuel Macron said France has proof of chemical weapons
Comments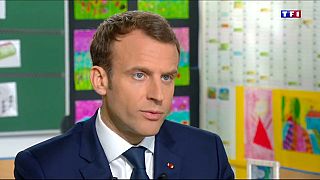 French President Emmanuel Macron said France has proof the Syrian government carried out the suspected chemical weapons attack.
Aid groups said that this attack at the weekend has killed dozens of people.
President Macron also said they will decide whether to strike back when all the necessary information has been gathered.
French President, Emmanuel Macron said, "We have proof that last week, now nearly 10 days ago, that chemical weapons were used, at least chlorine, and that they were used by Bashar al-Assad's regime. Today we cannot allow a regime - who thinks they can do whatever they want, even, at worst, defy international law - to act."
Syrian's President Assad's government denies being behind the alleged chemical attack in Douma.
The global chemical weapons watchdog said it will go to Douma "shortly", but it's unclear how much evidence might remain.
Meanwhile, the German Chancellor, Angela Merkel reiterates that Germany will not get involved in possible strikes.
German Chancellor Angela Merkel said, "Germany will not participate in possible military actions, I want to make it clear one more time, there was no decision on that, but we will see and support that everything is being done to set a sign that the use of chemical weapons is unacceptable."
Elsewhere, Britain's Prime Minister Theresa May will hold an emergency Cabinet meeting.
Ministers are expected to back her call to join military action threatened by the United States and its allies.