Elephant dies in accident on Spanish motorway
Comments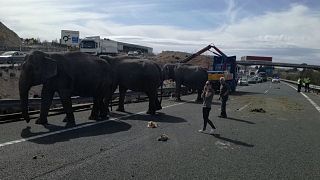 One elephant has been killed and two others injured after a truck transporting them crashed on a motorway in south-eastern Spain.
The lorry, which was carrying five circus elephants, veered off the road and overturned. The driver was unharmed.
The surviving animals escaped the wreckage, wandering onto the verge and nearby fields.
The motorway, which was busy with Easter holiday traffic, was closed as emergency services and animal experts dealt with the situation.
The injured elephants were eventually winched onto another truck and removed.