Pope uses Easter message to pray for peace in Syria
Comments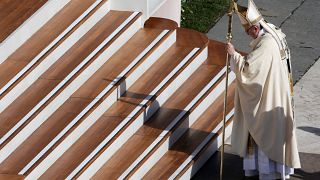 -
Pope Francis has addressed tens of thousands of pilgrims in St Peter's Square where he prayed for an end to the war in countries including Syria.
The pontiff delivered the traditional 'to the city and to the world' Easter message from the central balcony where he earlier celebrated Mass.
Pope Francis also prayed for peace in "the Holy Land", Yemen, the Democratic Republic of Congo, North and South Korea, Ukraine and Venezuela.
"And today we ask for the fruits of peace for the whole world, to begin with the beloved and martyred Syria, whose population is exhausted by a war whose end is not envisaged. On this day of Easter, the light of Christ illuminates the consciences of all political and military leaders, in order to stop immediately the ongoing massacre," he said.
An estimated 500,000 Syrians have died and millions have been displaced in the war which started about seven years ago.
Those attending the service at the Vatican underwent heavy security checks following terrorism raids across Italy last week.