Le Pen's new party name hits snag — as group says Rassemblement National name is already taken
Comments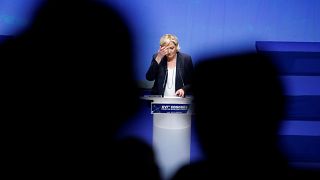 Marine Le Pen will have to think twice about the new name she's chosen for her party — Rassemblement National (National Rally).
The name appears to already belong to another French political organisation headed by Igor Kurek, which was registered at the Institut national de la propriete intellectuelle (The National Institut for Intellectual Property or INPI) in 2013 by Frederic Bigrat, the party's deputy secretary general at the time.
INPI's database shows that the name "RN Rassemblement national" was registered with the logo in 2013.
In a statement published on Twitter, Kurek, who hails from the "Gaullist right" — a right-wing party following the political thought of General Charles de Gaulle — said he would not allow Marine Le Pen to take the name of his party.
"The reality is that the Rassemblement national (RN) exists already…and will continue to exist, especially, by presenting itself to the municipal elections of 2020," writes Kurek. "The RN is from the Gaullist right and republican, the FN is from the extreme-right."
"The FN will never be the RN and the RN will never be the new FN," he concluded.
Le Pen told RTL on Monday that the Front National (FN) had requested the name back in 1986 and said she would sue Kurek for using the FN's emblem "illegally" — a flame in red and blue.
She later tweeted that the media who published "the fabrications of the one who claims to own the name 'rassemblement national'" should "apologise to their audience".
Answering Le Pen's threat of taking him to court, Kurek told Euronews that he would "meet her there".
"You can take all the interviews given by Le Pen and 95% of the time she threatens with suing someone, so she can sue all she wants."
Kurek added that Le Pen could've checked whether the name was already in use before deciding to rename her party.
According to the leader of the RN, Le Pen wants to use his party's name because it works well with the FN's activists but that she already knew the name belonged to them.
"We not only registered the name with the INPI but bought the domain name, created a Facebook page and she follows us on Twitter," said Kurek.
As for the flame, the RN had registered a flame with a Lorraine cross on it — an emblem adopted by de Gaulle during World War II.
As a political party that belongs to the Europe of Nations and Freedom, Kurek said the RN was "sovereignist" but "did not belong to the extreme right".
Euronews has reached out to Le Pen for comment.