EU and Japan want exemption from US metal import tariffs
Comments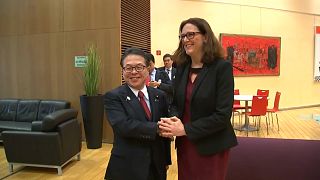 The EU and Japan are urging the United States to exempt them from metal import tariffs to avoid a trade war with the world's biggest economy.
Following talks with the US and Japan's trade representatives in Brussels, the EU's trade commissioner Cecilia Malmstrom took to social media and said in a tweet: "there was "no immediate clarity" on how they could be excluded from the measures and that discussions would continue next week."
On Thursday, US President Donald Trump set import tariffs of 25 percent on steel and 10 percent on aluminium, but he excluded Canada and Mexico from the new measures.
Before the move, the meeting was planned as an opportunity to develop a united front in dealing with China and its alleged overproduction of steel.