World's oldest known message in a bottle discovered in Australia
Comments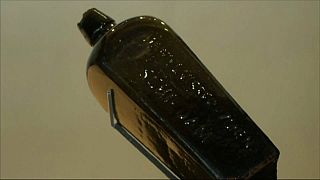 The oldest message in a bottle to ever be discovered washed up on a beach in Western Australia
132 years after being thrown overboard a German ship.
A couple discovered the bottle when walking on the sand a hundred miles north of Perth and it is now on display in a maritime museum in the country.
Tonya Illman described the moment she made the bizarre discovery: "The dunes are pristine and there was rubbish everywhere and I simply decided to take some rubbish home and I bent down and picked it up and it was at my feet. It was uncovered, no cork on it and it was... probably about half of it was exposed."
Inside, a rolled up piece of paper tied with string noted the ship's name, coordinates and the date.
Ross Anderson from the Western Australia Museum said:
"Because of the fact it had so much information in ink, on the note we were able to compare that directly with the Paula journal and do a handwriting analysis of their meteorological journal and it's exactly the same hand.
So we think it's the captain Captain Diekmann and of the Paula who probably wrote on this message put it in his little bottle threw it overboard and also wrote in the journal that he had thrown the bottle overboard."
Between 1864 and 1933, German boats threw thousands of bottles overboard to understand naval currents