Trump threatens retaliatory tax on EU cars
Comments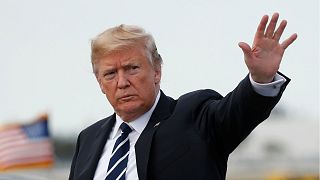 US President Donald Trump has threatened a new tax on imports of cars from the European Union in response to threats of retaliation against US tariffs on steel and aluminium.
The EU said on Friday that it was considering tariffs against a range of US goods in response to Trump's plans for a 25% tariff on imported steel and 10% on aluminium.
Taking to Twitter on Saturday, Trump warned that if the EU wanted to further increase its "already massive tariffs and barriers on US companies doing business there, we will simply apply a tax on their cars".
"They make it impossible for our cars (and more) to sell there," he wrote, pointing to a "big trade imbalance."
The remarks on Twitter came after European Commission President Jean-Claude Juncker said he would consider tariffs on iconic US brands like Harley Davidson, Levi's and Bourbon.
"This is basically a stupid process, the fact that we have to do this. But we have to do it ... We can also do stupid. We also have to be this stupid," he said.
In a second tweet on Saturday, Trump said the US had an $800 billion yearly trade deficit "because of our 'very stupid' trade deals and policies."
"Our jobs and wealth are being given to other countries that have taken advantage of us for years. They laugh at what fools our leaders have been. No more!"
Arancha Gonzalez, executive director of the Geneva-based International Trade Centre, told Euronews on Friday that the US president's so-called protective measures would end up punishing American workers.
"If we go by history, because this has already happened in 2002, the result would be a net loss of American jobs. This is what we saw in 2004 with 200,000 jobs being lost in the United States mostly in the user industry as a result of the steel protectionist measures taken by the Bush administration at the time," she said.