Vatican to provide 'exorcism course' as reports of demonic possessions in Italy soar
Comments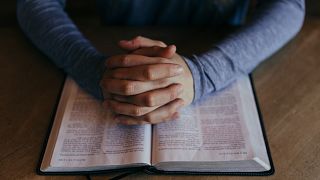 The Vatican is reported to be training more priests in how to remove demons from "possessed" people as demand for exorcisms soars in Italy.
Requests for clergymen qualified in extracting demons has tripled in Italy over the last few years, according to Benigno Palilla, a longtime exorcist from Palermo, Sicily.
He told Vatican Radio there were now 500,000 alleged cases recorded each year across the country.
Palilla put the rise down to the growing number of people ready to use "wizards" and "sorcerers," such as tarot card readers, rather than turning to the church.
Palilla worries that visiting clairvoyants "opens the door to the demon", for which exorcism is "an effective weapon to fight the evil one".
In April, a six-day course at Rome's Catholic educational institution, the Pontifical Athenaeum Regina Apostolorum, will provide teachings on "the existential surroundings of demons".
"We will touch on the most burning issues from the sects linked to Satanism, to the benefits of telling the possessed the story of their liberation," said Palilla.
He said that many men were not trained how to deal with possessed people as they prepared for the priesthood and this lack of coaching could prove to be an issue.
Among the speakers at the course will be Father Cesare Truqui, a pupil of Rome's chief exorcist Father Gabriele Amorth, who claimed to have performed tens of thousands of exorcisms in his lifetime.
Trugui is concerned that the practice could soon fall out of use. "Many Christians no longer believe in its existence, few exorcists are appointed and there are no more young priests willing to learn the doctrine and practice of liberation of souls," he worries.